Shaw-Box World Series Monorail Hoist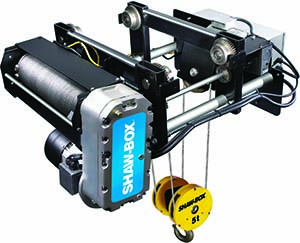 Capacities Available: 1 Ton - 15 Tons
Lifts Available: 20' - 40'
Brand: Shaw-Box
Shaw-Box World Series Monorail Hoist and Trolleys are low headroom, heavy-duty hoists built to provide long life in heavy applications with the higher lifting speeds and precise positioning control.
Additional features and benefits include:
Triple reduction hoist gearing is oil bath lubricated, operating in an oil-tight, cast aluminum gear case.
The motor is two-speed with a 4:1 ratio from high to low speed; giving a low speed for precise load handling and a high speed for fast throughput.
The wire rope drum is machined from quality steel, deep-grooved with a rope guide to help ensure the rope stays in the grooves.
The hoist is reeved to a low-headroom design lower block for minimum headroom and maximum lift.
Wire rope is secured to the drum with three heavy ductile iron clamps and designed to have three extra wraps of wire rope on the drum with the rope at full extension (low hook).
Each hoist comes with a bearing mounted trunnion hook that rotates 360 and swings back and forth 180 for easier load adjustment.
The hoist is provided with an upper/lower, geared control circuit hoist motion limit switch.
An additional blockoperated upper control circuit limit switch is available as an option.
A hoist overcapacity limit switch prevents lifting excessive overloads.
Two wheels are driven; one on each side of the frame for maximum traction and uniform tracking.
Hoist and trolley controls are housed in a common NEMA 4/12 enclosure with hoist motion monitor, motor thermal overloads, over capacity limit switch and more.
Product image above may show optional features and accessories not included on standard models. Consult with a sales rep or with the product catalog for more information.
We are proud to carry these brands...