Yale Cable King TR Double Girder Hoist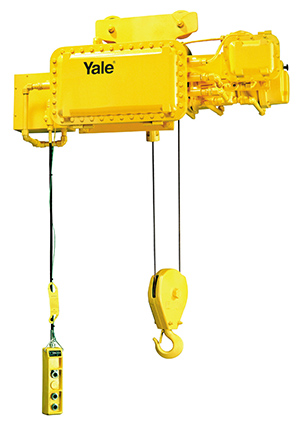 Capacities Available: 5 Tons - 35 Tons
Lifts Available: 15' - 175'
Brand: Yale
Yale Cable King TR Double Girder Trolley (Single/Double Reeved) combines the outstanding features of the Cable King electric wire rope hoist in a versatile Trolley ideal for a multitude of applications.
Additional features and benefits include:
TB Capacity 5 - 20 Tons
TR Capacity 5 - 35 Tons
Faster lifting speeds and heavy-duty service
Available in a variety of gages
Flux Vector hoist control on motors 25 Hp and larger
Single, two-speed or inverter controls on motors under 25Hp
Weston screw-and-disc type load brake through 20HP
AC-disc-type motor brake
Upper and lower geared limit switch
Upper plugging limit switch
Rubber bumpers
Rail sweeps
Conforms with ASME B30.2
Available for Class 'D' and CMAA 70 specifications
TR only available in Double Reeved
Product image above may show optional features and accessories not included on standard models. Consult with a sales rep or with the product catalog for more information.
We are proud to carry these brands...